The Friese Foundation is dedicated to supporting organizations that benefit America's military service members and their families, which is why the foundation has been an active supporter of the USO (United Service Organizations) for more than a decade.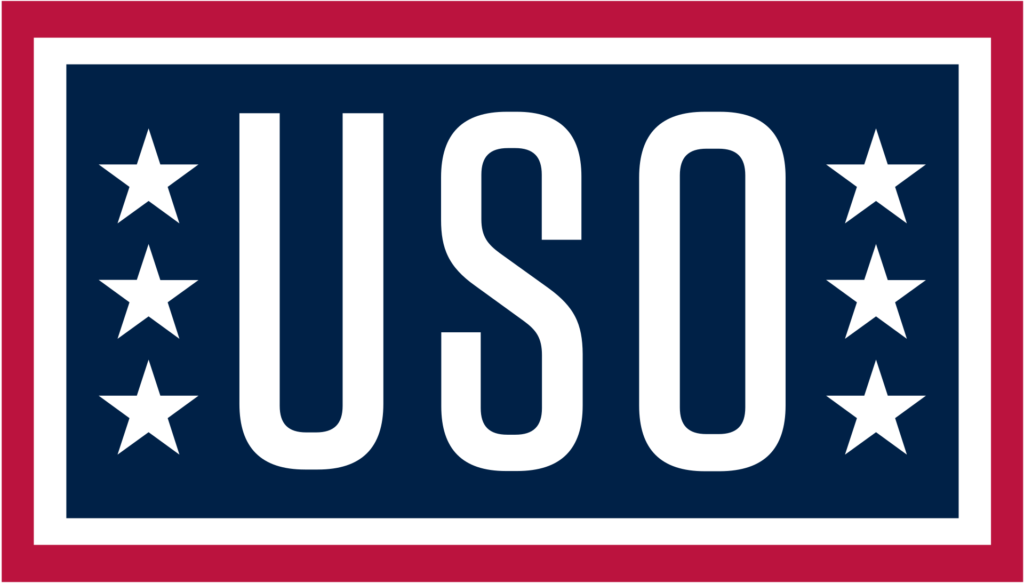 The USO has long played a key role in connecting America's military service members to their families and supporting them throughout their time in the military. In addition to its dedicated staff, the USO is supported by more than 30,000 volunteers around the world.
Founded in 1941 during the Second World War with the overriding aim to boost morale and provide entertainment services for troops, the USO has evolved into an all-encompassing support network that stands beside every service member, from the moment they enlist.
Support Every Step of the Way
For the newly enlisted, the USO welcomes new recruits and their families to introduce them to the range of USO support facilities around the world, which provide a friendly place to relax and connect with family back home.
For those on the front lines, the USO delivers care packages, snacks, and home comforts, and provides entertainment in the form of live music, celebrity tours, movies, and video games. The USO also helps service members stay in touch with family and loved ones back home with phone calls and free Internet access inside USO Centers and Mobile Centers. The organization is also there to offer guidance and referrals during service members' transition out of the military and back to life at home.
Military Families
The USO places great importance on keeping military families strong, which is why the organization also hosts military spouse networking events and activities for kids. It provides meals for military families, hosts EmPaCt family connection events, and leads seminars for couples as well.
In addition, the USO is there during the most trying times for military personnel and their families. The organization provides information, programs, and support at their USO Warrior and Family Centers, which provide medical facilities and healthcare for wounded soldiers, as well as support for families of service members who have made the ultimate sacrifice.
USO Centers
There are more than 200 USO Centers located around the world, including in the United States, Afghanistan, Kuwait, Iraq, Italy, Germany, Japan, South Korea, and many other countries. USO Centers offer a welcoming place for service members to relax, enjoy refreshments, and connect to family members and friends via the Internet or phone.
For those without access to a Center, the USO also operates Mobile USO Centers that offer many of the same comforts as the brick-and-mortar centers to men and women serving in the field. Each Mobile USO Center has wireless Internet, laptops, TVs, video games, coffee makers, refrigerators, and microwaves, all in a climate-controlled vehicle or trailer.
In 2017, USO Centers were visited more than 7 million times, while the four centers in Afghanistan collectively average more than 25,000 visitors every month and the two in Kuwait over 39,500 visits per month.
Providing Entertainment and a Taste of Home
The USO's delivery network is a crucial part of its mission to provide a home away from home for those on the front line and away from family. The USO Care Package Program delivers both snack and toiletry care packages to service members to provide "a taste of home." For those stationed in areas without a USO Center, the USO2GO program delivers customizable kits and care packages that include anything from furniture and electronics to toiletries, snacks, and other essentials.
Meanwhile, the USO has served more than 250,000 military members through its USO tours and other entertainment events. In 2018 alone, more than 87,000 service members and their families were reached by USO entertainment tours, which involved 96 celebrities and 41 tours across 19 countries. A few of the entertainers who have participated in USO Tours include comedians Jon Stewart and Iliza Shlesinger, actors Scarlett Johansson and John Krasinski, and NBA stars Caron Butler, Sam Perkins, and Kevin Martin.
Support for Veterans Returning Home
It's estimated that more than 200,000 members leave the military every year. When a service member leaves the armed forces, the USO is there to lend a supporting hand during the sometimes-difficult transition back to civilian life. The organization helps service members develop clear plans for their future, provides one-on-one support, and facilitates access to community networks and resources that can help service members reach their professional and personal goals. In addition, the USO hosts summits, networking events, and workshops.
For example, the Pathfinder program is there to help make the transition back to civilian life that much easier. Currently, there are 13,985 members participating in the Pathfinder program, which provides vital support and guidance on everything from job applications, researching education options, utilizing VA Home Loan or other veterans' programs, and any other aspects of moving on from military life.
A scout from the Pathfinder program is assigned to work with a military member up to one year before they plan to leave. He or she works alongside the veteran for another year after the end of their service, thus providing plenty of support.